Le Verger de Fouisseul se situe sur la route historique du Mont Saint Michel.
Vous trouverez de nombreux sites à visiter à quelques kilomètres des gites.
"Le Verger de Fouisseul" is located on the historic Mont Saint Michel road.
You will find many sites to visit a few kilometers from the cottages
Rennes (17 km)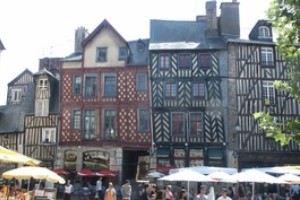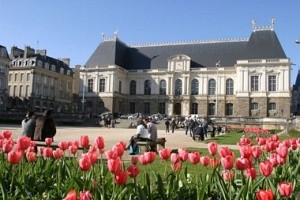 Son parlement, son marché des Lices, la place et le quartier Ste Anne…
Historical center town (Parlement illuminated every night from 23h00, place Sainte Anne, Marché des Lys evry Sunday…). During July and August, Festival Transat en Ville with special events every day around culture and music. Free tea time from 17h00 to 18h00. This is a place where we like to go at night, for diner or just for pleasure.
http://www.tourisme-rennes.com/
Les étangs de Feins – Domaine de Boulet (8 km)
http://www.domaine-de-boulet.fr/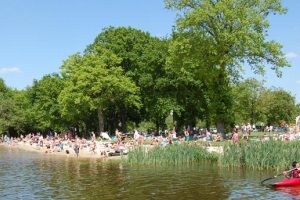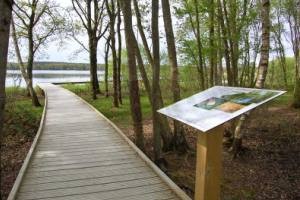 Baignade, randonnées pédestre, vélo pour les grands et les petits.
Site exceptionnel, à 8 km des gites, le Domaine de Boulet vous accueille au cœur d'un espace naturel préservé et classé Natura 2000, gage d'une faune et d'une flore d'exception. Agrandi en 1828, pour réguler l'alimentation du canal d'Ille et Rance, l'étang de Boulet est aujourd'hui, le plus vaste plan d'eau navigable d'Ille-et-Vilaine (153 h). Confirmés ou débutants, vous pourrez pratiquer une activité nautique en toute sécurité. Laissez-vous guider par les sentiers de randonnées pour découvrir les richesses terrestres et aquatiques.
Swimming, hiking, cycling even for children… Exceptional site, 8 km from the cottages, located in the heart of a natural protected area. Expanded in 1828 to regulate the supply of Ille and Rancecanal, this is now the largest navigable waters of Ille-et-Vilaine (153 h). Experienced or beginner, you can practice anautical activity safely. Our daughters like this place for the beach !!!
Le canal d'Ille et Rance (4 km)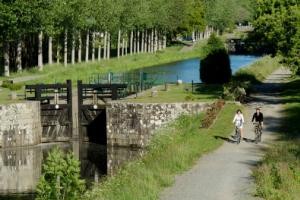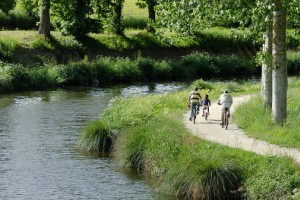 Le canal chemine entre St Malo et Rennes sur 110 km, en passant par ST Germain sur ille et son écluse.
Au départ de St Germain sur ille, le canal  chemine sur la rive Est jusqu'à St-Grégoire. Le canal est ici un véritable paradis pour le tourisme fluvial, la pêche et le jogging. L'entrée dans Rennes, Métropole d'Art et d'Histoire, se fait très aisément, une piste cyclable longeant le canal permet de gagner le centre-ville pour découvrir le patrimoine rennais. Une belle balade pour toute la famille à vélo ou à pied.
canal between St Malo and Rennes 110 km, passing through on Saint Germain sur Ille and its sluice. Quite walk starting from Le Verger de Fouisseul. We like to go there after a long day of work…
To go further, you can visit Hédé-Bazouges where 11 sluices have bee built on a bit more than 2 kms

http://www.francevelotourisme.com/base-1/destinations/bretagne/troncons/saint-malo-arzal
Crédit photos : E. Berthier
Le Mont Saint Michel (50 km)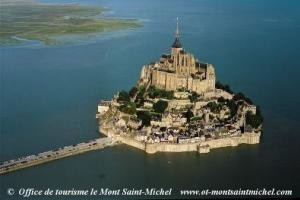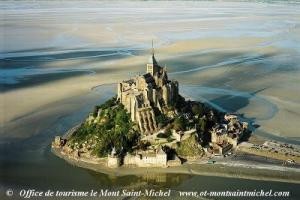 Le Mont Saint-Michel se dresse au coeur d'une immense baie envahie par les plus grandes marées d'Europe.
Inscrit au "Patrimoine Mondial" par l'Unesco en 1979, ce haut lieu touristique reçoit  aujourd'hui plus de trois millions de visiteurs par an.
http://www.ot-montsaintmichel.com/index.htm?lang=fr
No need to describe it a lot as this is one of the most beautiful place to visit in France.
Just a recommendation in this time of the year, you should visit Le Mont very early in the morning or from 16h00 / 17h00.
You can also visit the Abbey from 19h30 (more quite with the possibiliy to see more than the rest of the day !) => http://www.abbaye-mont-saint-michel.fr/Actualites/Itineraire-Nocturne-l-habitant-secret-de-l-abbaye
Possibility to cross the bay with a guide (only with an official guide recommended)
Dinan (48 km)
Venez découvrir le patrimoine médiéval préservé, l'architecture remarquable du XVIIIe de la ville, les paysages verts de la Rance.
A preserved medieval heritage, the remarkable architecture of the eighteenth, green landscapes and harbour of the Rance,no doubt you are in Dinan! Explore this beautiful city of art and history (many art galeries). Dinan is maybe one of our favorite place.
http://www.dinan-tourisme.com/
Dinard (67 km)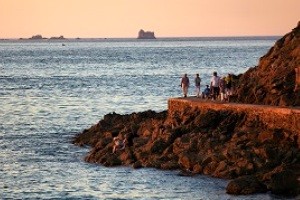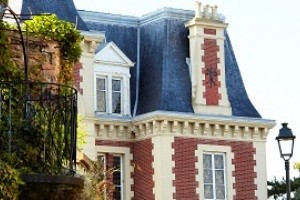 Grandes plages ou petites criques, toutes de sable fin, animées d'activités et de tournois, ou plus au calme, chacun fera son choix et trouvera son bonheur, sans oublier qu'avant ou après l'été, demeure le plaisir de fouler le sable en aspirant l'air pur, et de s'emplir les yeux de paysages d'une grande beauté.
Flânez en toute liberté et à votre rythme en découvrant les lieux à ne pas manquer à Dinard.
Vous découvrirez les Villas, Châteaux de bord de mer et anciens Hôtels qui témoignent de passé prestigieux de la Station.
http://www.dinardtourisme.com/
Fougères (45 km)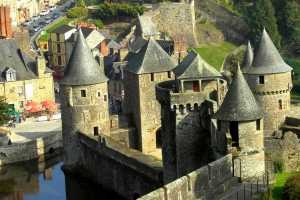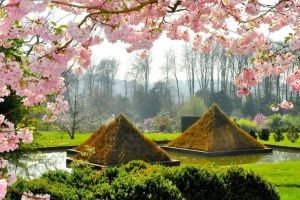 Maintes fois visitée par les grands écrivains, la ville de Fougères offre aux poètes, aux peintres, aux photographes, et bien sûr aux touristes un site incomparable.
Fougères doit son origine à son imposant château, installé il y a plus de mille ans sur un éperon rocheux entouré des eaux de la rivière Nançon qui firent office de douves naturelles. Elle se compose de deux villes : la Ville Basse, entourant le château et l'église de Saint-Sulpice, sur la rive droite du ruisseau Nançon ; et la Ville Haute, sur la rive gauche de ce ruisseau, avec l'église Saint-Léonard, l'Hôtel de Ville et le Beffroi.
Le parc animalier et botanique de Branféré :
Branféré est un concept original qui rassemble en un même lieu un parc animalier & botanique, un parc de loisirs (le parcabout®) et un centre d'éducation à l'environnement (l'École Nicolas Hulot).
Visit the medieval town and the Castle. Maybe the most beautiful medieval place to visit.
http://www.ot-fougeres.fr/accueil
Saint Malo (56 km)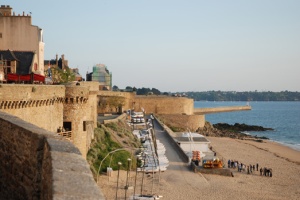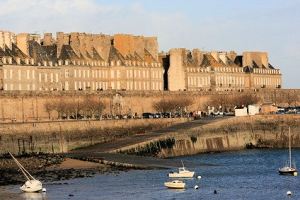 Which we call Corsair city in reference to Duguay-Trouin and Surcouf who built a significant part of his prestige. Visit the fortified city (in priority), the beach with the famous swimming pool, numerous museum, the Aquarium
http://www.saint-malo-tourisme.com/

Cancale (60 km)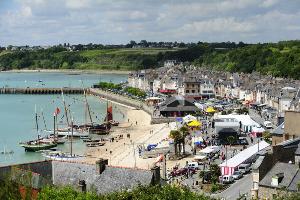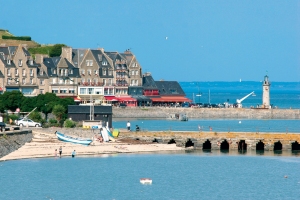 Nice fishing port specialized in culture of fine oyster. Best place if you want to eat sea food. Visit "la Pointe du Grouin". La plage du Verger (beach of Verger) is one of the most beautiful beach in this area.
http://www.cancale-tourisme.fr/
Combourg (25 km)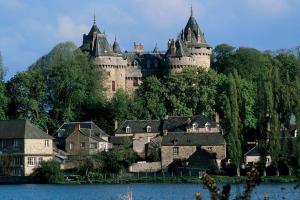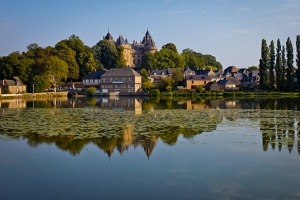 Cradle of Romanticism, Combourg is also a Rural resort.Visit the medieval center and the Castle and do the tour of the  lake renamed  Quiet Lake by François-René de Chateaubriand. 
One of the most accessible place with small streets and old stones (and buildings ;). Brittany spirit in complete tranquility.
http://tourisme-combourg.fr/index.php
La forêt de Brocéliande (35 – 50 min) (near Paimpont)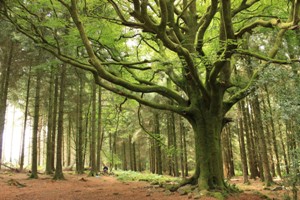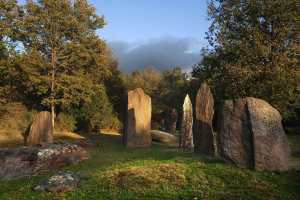 Brocéliande Forest was born int he writings of the Middle Ages with the exploits of the Knights of the Round Table.
http://tourisme-broceliande.bzh/

Les Jardins de Brocéliande :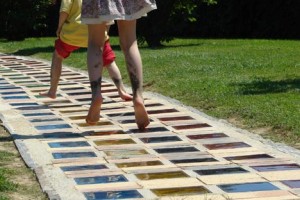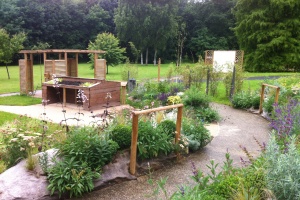 A magical place to visit with your children and for you as well !!! If you love nature and its diversity. A place to discover flora and fauna differently. A journey of the senses, barefoot, touch, smell, taste … all to share with your children.
http://www.jardinsdebroceliande.fr/index.php
Le Cap Fréhel & Fort La Latte (+60 min)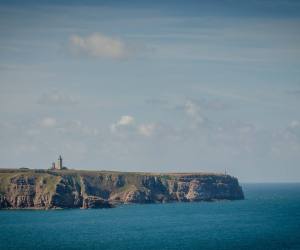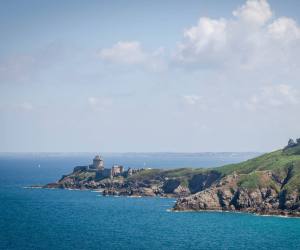 Crédit photos : C. Osmont

Synonymous of wild nature. A place where we used to come when we were young. We like it. The wind, the see, and nice cliffs overlooking wonderful beaches. You can have a quite walk along the cliffs on customs trails.
http://www.paysdefrehel.com/
Enregistrer
Enregistrer
Enregistrer
Enregistrer
Enregistrer
Enregistrer
Enregistrer
Enregistrer